Clean Water Action Announces First Round of Endorsement For the 2020 Election Cycle
PROVIDENCE, RI - Clean Water Action is pleased to announce its first round of endorsed candidates for the 2020 election cycle.
"One of the largest long-term challenges that we face as a state is the climate crisis," said Johnathan Berard, Clean Water Action's Rhode Island State Director. "The economic, social, and environmental well-being of all Rhode Island residents will depend on our ability to quickly and meaningfully address this challenge head-on. We've had a need to accelerate our efforts for some time; however, not one single piece of meaningful environmental legislation has been sent to the governor's desk for her signature in the past two years.
"The need for elected officials who understand that we need to pass immediate, strong, and equitable measures to address the climate crisis, protect our natural resources, and address public health disparities has never been more urgent," continued Berard. "We are excited to support these candidates who have publicly pledged to prioritize these matters in their work."
State Senate
Sam Bell (D), District 5

Tiara Mack (D), District 6

Meghan Kallman (D), District 15

Jonathon Acosta (D), District 16

Josh Miller (D), District 28

Jeanine Calkin (D), District 30

Kendra Anderson (D), District 31

Bridget Valverde (D), District 35

Alana DiMario (D), District 36

V. Susan Sosnowski (D), District 37
State Representative
Edith Ajello (D), District 1

Rebecca Kislak (D), District 4

David Morales (D), District 7

Grace Diaz (D), District 11

Brandon Potter (D), District 16

Joseph McNamara (D), District 19

Justine Caldwell (D), District 30

Teresa Tanzi (D), District 34

Miguel Torres (D), District 38

Jack Lyle (I), District 46

Carol Hagan McEntee (D), District 33

Leonela Felix (D), District 61

Katherine Kazarian (D), District 63

Liana Cassar (D), District 66

Jason Knight (D), District 67

June Speakman (D), District 68

Susan Donovan (D), District 69

Michelle McGaw (D), District 71

Terri Cortvriend (D), District 72

Deborah Ruggiero (D), District 74

Lauren Carson (D), District 75
Municipal Races
Maria Bucci (D), Mayor, Cranston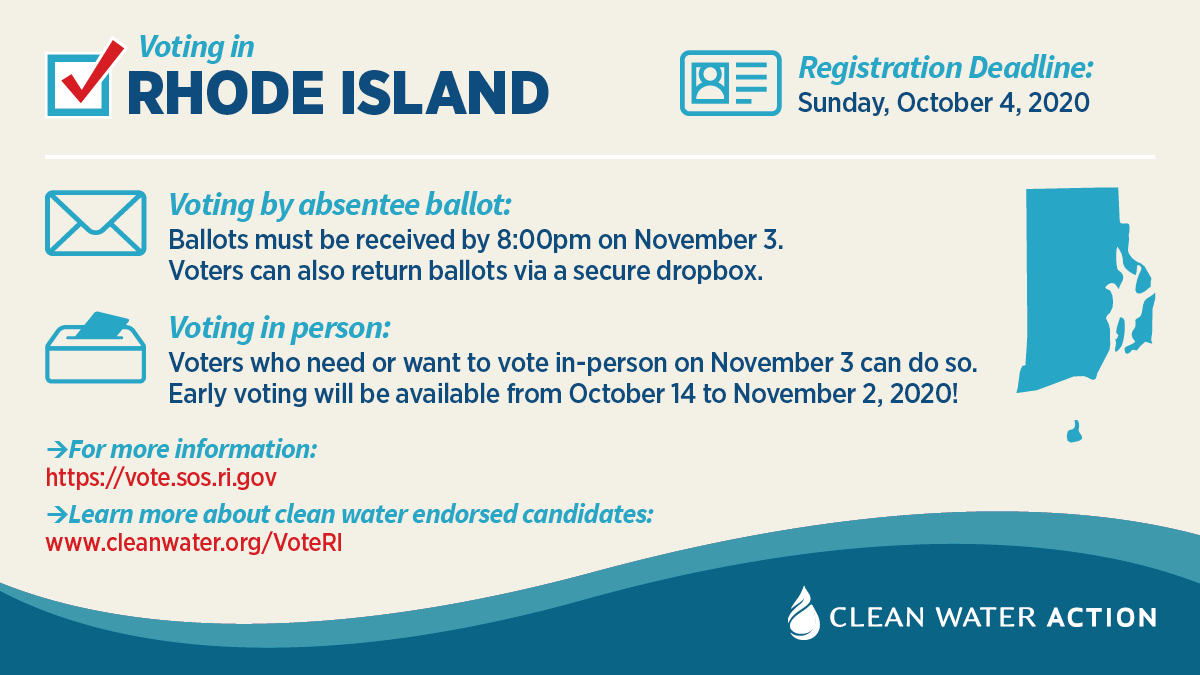 # # #



Since our founding during the campaign to pass the landmark Clean Water Act in 1972, Clean Water Action has worked to win strong health and environmental protections by bringing issue expertise, solution-oriented thinking and people power to the table. We will protect clean water in the face of attacks from a polluter friendly Administration. www.cleanwateraction.org
Clean Water Action is responsible for the content of this independent expenditure. It is not coordinated with or approved by the candidate or candidate committee. For more information, please contact elections2020@cleanwater.org.