The Swamp Creature is back in business!
July 22, 2019
Donald Trump promised to "drain the swamp" - but instead, he's brought the swamp back to DC, appointing federal employees who greenlight oil and gas development, endangering America's public lands, waters, and wildlife. David Bernhardt, the Secretary of the Interior, is the quintessential swamp creature. He is a former oil and gas lobbyist with so many conflicts of interest that he carries a literal card listing them,  because he can't remember them all. But he has to: for his past two years in government, he's been banned from conducting business with his former clients. This recusal period is meant to protect the public from backroom deals to benefit his former clients, especially in a department already mired in a culture of corruption. But that two-year period comes to an end on August 3.
From the very beginning, Bernhardt said he would not follow these rules one minute longer than he had to. At his confirmation hearing, he told the Senate Natural Resources Committee, "I am basically handcuffed and not in the game for the American people if I am recusing myself, and I don't think that is really the best strategy." This means that after August 3, he'll be able to communicate freely with the 27 companies he used to work or lobby for, who have business before the Department of the Interior: from the Independent Patroleum Association of America, working to weaken protections of the Greater Sage Grouse, to the Rosemont Copper Company, working to develop an open-pit copper mine in Arizona's Coronado National Forest. This will make it even easier for him to sell out our lands, oceans, and wildlife to corporate polluters.
The swamp creature was happy to hear it.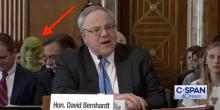 Ever since the confirmation hearing, swamp creatures have been following Secretary Bernhardt around: from his confirmation hearing in the Senate, his testimony about Trump's 2020 budget in the House, the steps of the Capitol, and even all the way to Vail, Colorado. Secretary Bernhardt is a true creature of the swamp - bringing the worst of the oil and gas industry, big development, backroom deals, and corruption back into DC. The swamp creatures want to make sure he doesn't forget where his loyalties lie, and support their good friend David Bernhardt in making DC swampy again.
The swamp creatures are so excited that they're throwing David Bernhardt a party outside of his office to welcome him back to the swamp. Join us across the street from the Department of the Interior on Friday, August 2 - the last day of his recusal against communicating with his fellow swamp creatures - as the swamp creatures make sure Bernhardt knows that they're coming to collect on the back-room promises he's made. You'll get to take your photo with the swamp creatures, play swampy party games, enjoy free ice cream sandwiches, and send a clear message to the Trump administration: we know that you're letting the culture of corruption grow in Washington, but we're not going anywhere. RSVP here.
Can't make it? If you have a moment on your lunch break, meet the Swamp Creatures at the "Crookie Truck" to enjoy Sweet Treats and Sweetheart Deals earlier in the week as they hand out free ice cream and free party invitations:
Tuesday, July 30th: near Union Station
Wednesday, July 31st: K Street outside Franklin Square
Thursday, August 1st: 1100 block of F St NW
Follow @DOISwamp, #CrookieMonster, and #StopBernhardt for more updates as the Swamp Celebration approaches!