Greening the Dodge Poetry Festival
Clean Water Action and Clean Water Fund have partnered with the Geraldine R. Dodge Foundation to green their Dodge Poetry Festival which takes place every two years in Newark, New Jersey's largest city. For four days, New Jersey's largest city and vibrant downtown Arts District is transformed into a poetry village featuring some of our most celebrated, diverse and vibrant poets and spoken word artists.
Clean Water Action & Clean Water Fund work with the Dodge Foundation in minimizing the festival's environmental impacts through waste reduction and reuse techniques.
Working in partnership with the City of Newark and the NJ Performing Arts Center (NJPAC), Clean Water Fund assembles a dynamic "Green Team" of trained volunteers and staff that worked at five different resource collection stations throughout the NJPAC plaza area.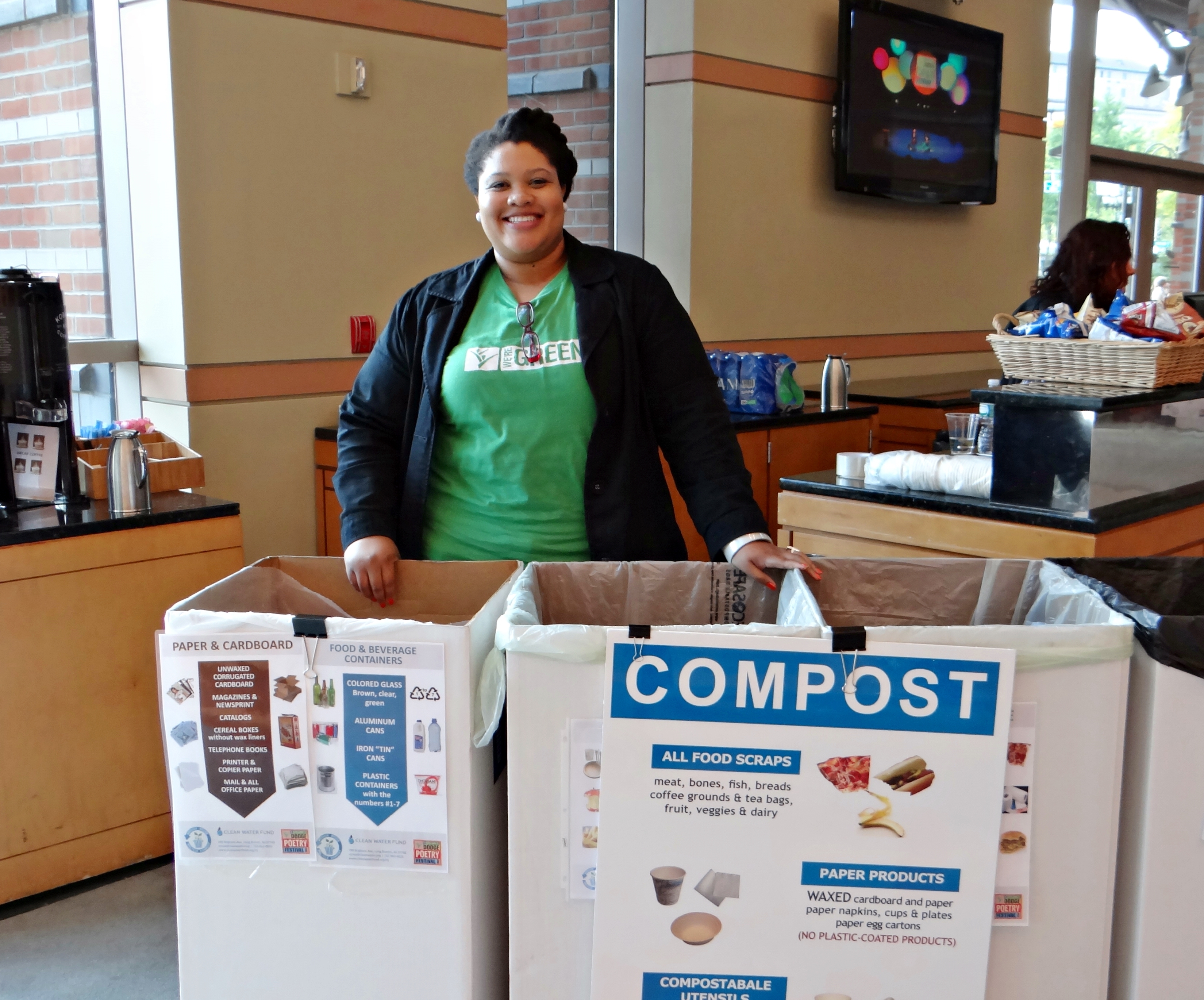 Green Team volunteers teach festival-goers how to place used materials from the festival in the correct receptacles for recycling, composting and trash. NICO restaurant and other food vendors are also part of this process - using plates, flatware, etc. that are compostable and cups that are recyclable. Overall, our goal is to educate festival-goers on sustainability and to reduce the amount of waste ending up in landfills and the Newark incinerator. The Newark incinerator is a huge source of air pollutants-dirtier than coal per kilowatt and linked to climate change and health disorders such as asthma and cancer. 
Each resource collection station will contain five different bins for waste generated at the festival including recyclables, compostables, liquids, and "trash":
Recyclables: plastic (#1-7), glass and metals;
Recyclables: cardboard and mixed paper;
Compostable Materials: food and vegetable waste, biodegradable plates and utensils, and waxed cardboard in a closed lid container;
Liquids; and
Incinerator and Landfill Waste: plastic, Styrofoam and aseptic containers.
The Green Team ensures that each bin is sorted properly - ensuring the largely incinerator-bound trash had little more than plastic wrappers, bags, and juice boxes. Volunteers will also weigh the materials and prepare them for pick-up and reuse.
The ultimate goal is environmental awareness, education and moving the City of Newark closer towards achieving its "zero waste" goals, much like Austin, New York City, Chicago, San Francisco and Portland, Oregon are beginning to undertake. Clean Water Action has been also working with the City of Newark on its Sustainability Action Plan, as well as food waste pilot programs in Newark Public Schools and Beth Israel Hospital and home composting initiatives.