Case Study - Big G Burger
Big G Burger is a family owned and run business in Downtown Oakland serving American fare for breakfast, lunch and dinner. The 1,800 square foot location has a very casual dining area with 28 seats and a very busy lunch rush. Customers order and pay at the counter and are served at the table. One person at the counter takes all of the orders, packages to–go orders, and delivers food to the tables. Approximately 20% of Big G's 100 transactions per day are to-go orders of burgers and salads.
Packaging practices prior to ReThink Disposable:
All to-go orders were packed with a complete set of disposable items (9 condiment packets, 4 napkins, and utensils)
Orders with multiple menu items received extra condiment and utensil sets
Served 80% of their "for-here" customers on reusable foodware.
Washed all of their dishes by hand in a three-sink washing system.
Offered condiments for dine-in customers in bulk containers.
Recommendations implemented:
Eliminated disposable packaging sets
Created a self service station for condiments and cutlery with educational signage
Big G's biggest opportunity to minimize disposable packaging was to stop handing out disposable cutlery and condiment packets for every to-go order. By targeting the to-go aspect of the business operation, a huge amount of waste was reduced, without compromising customer satisfaction, and significant money was saved. No condiment sets to assemble and fewer trips to the store to purchase cases of disposables, saved time and money.
Quote from Cruz Gabino, Owner: "Now things are faster for the restaurant and the customers like it."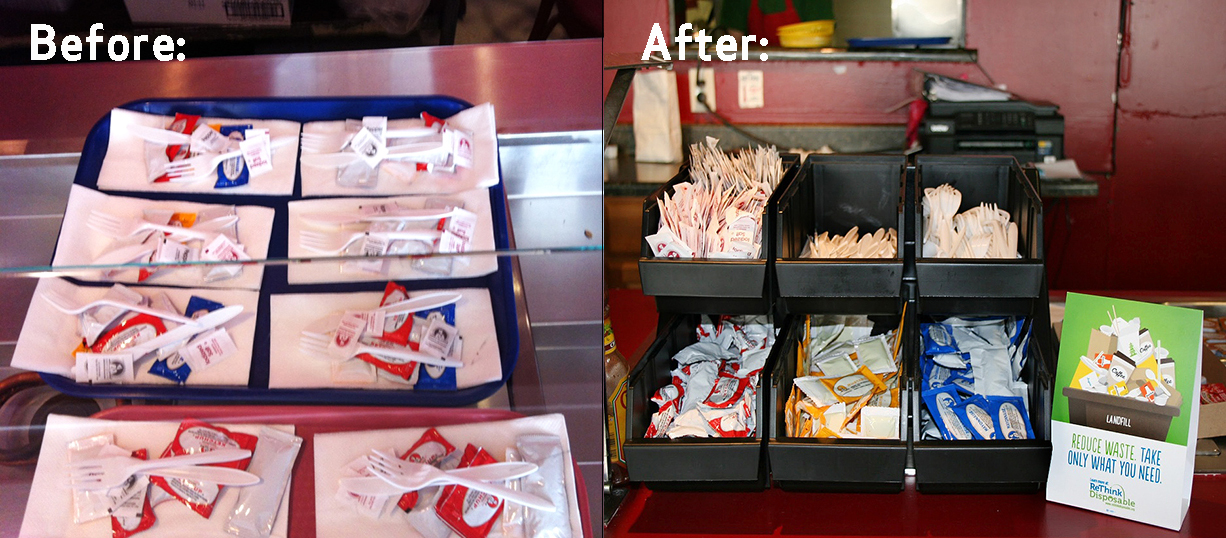 The bottom line:
122,069 condiment packets and 19,144 utensils per year reduced
$2,145 annual cost savings
1,456 pounds of waste reduced annually
Increased operational efficiency (saved staff time)
Set-up costs were minimal and totaled $85.91